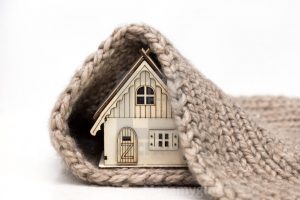 Australian houses have been called "glorified tents" for their inability to stay cool in summer and warm in winter. Is yours one of them?
There's no need to freeze this winter: here are a few small changes you can make to make your home warmer and more energy-efficient to keep your heating costs down.
1. Insulate
In winter, 25–35% of an uninsulated home's warmth is lost through the roof. Insulation will keep your house warm in winter, but it'll also keep your home cool in summer, so it's worth the investment. If you're going to spend money on heating and air conditioning, you might as well make it as cost-effective as possible by insulating your home.
"Average households that install wall, floor and ceiling insulation can save hundreds of dollars on energy costs each year," says Chris Barnes, CHOICE's home-heating expert.
"Insulation is best installed when building or renovating, but can be retrofitted to an existing home. This is best done by professionals, though ceiling and underfloor insulation can often be done by a capable home handyperson."
2. Go with the flow
Be aware of how the hot air moves around your house. It's tempting to move the sofa as close as possible to the heater, or to put your wet laundry in front of it during a rainy week, but this will restrict the flow of hot air around your house. To ensure you get the most out of your heat source, make sure nothing is blocking the flow.
To make your heating more efficient, close doors to rooms you're not using. Only heating the rooms you're actually in will reduce your heating bill – there's no point heating the spare room if no-one's in there.
3. Magic carpet
If you have hard floors, rug up – literally. Any distance that you can put between the cold floor and your tootsies will make a difference, so consider covering hard floors with rugs.
4. It's curtains for cold
Curtains will help you keep warm in winter, but cool in summer. Up to 40% of heating energy can be lost through windows, so pull the curtains closed to keep the warmth in. For maximum insulation, adding a pelmet will stop the warm air escaping through the top of the windows.
"If you want to take things to the next level, double glazing is the Rolls Royce of heat loss reduction, but it's a major job," says Ashley.
5. Seal it up
Track down any draughts in your home, particularly around doors and windows, and seal them up. Most of the products you'll need to do this can be picked up at a hardware store, but do your homework before you start shopping or get some advice.
Products that can make a difference include:
Door snakes
Weather seal tape
Silicon sealant or caulk
Roller door seals
PVC door strips
Storm-proof seals
Brush door seals
Auto-lift door seals.