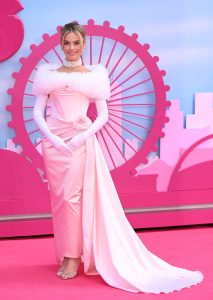 In the dazzling constellation of stars, Margot Robbie shines with a radiance all her own. Her journey from the sun-kissed beaches of Australia to the glamour of Tinseltown is a testament to her extraordinary talent, work ethic, and unyielding dedication to her craft. Margot Robbie has emerged as a force to be reckoned with in the world of entertainment.
Born in Dalby, Queensland, Australia, on July 2, 1990, Margot Robbie's path to stardom began with her early fascination with acting. She honed her skills at Somerset College on Australia's Gold Coast and, like many aspiring actors, started her career in television before making her way to the grand stage. Her determination and undeniable talent were soon recognized, propelling her into the limelight.
Margot Robbie's ascent can be attributed to her rare combination of beauty, charisma, and raw acting talent. She possesses a captivating screen presence that can effortlessly shift between endearing charm and intense depth, making her a casting director's dream. Her remarkable ability to transform herself into a wide array of characters has left audiences and critics alike in awe.
One of the key factors that sets Margot Robbie apart is her versatility. She has taken on an impressive range of roles, from the iconic Harley Quinn in "Suicide Squad" to the elegant figure skater Tonya Harding in "I, Tonya." Her portrayals are marked by an authenticity that brings her characters to life, earning her numerous award nominations and accolades.
Margot Robbie's dedication to her craft extends beyond the silver screen. She has been a vocal advocate for gender equality in the entertainment industry and has used her influence to promote inclusivity and diversity. Her production company, LuckyChap Entertainment, is committed to producing films with a focus on female-driven stories, demonstrating her commitment to amplifying women's voices.
In addition to her acting career, Margot Robbie is a trailblazer for environmental conservation and sustainability. She has shown her dedication to protecting the environment through initiatives and projects aimed at reducing waste and promoting eco-friendly practices.
As her star continues to rise, Margot Robbie is a shining example of how talent, determination, and authenticity can pave the way to success in the world of entertainment. Her journey from Australian television to fame has been marked by a relentless pursuit of excellence, a commitment to social causes, and an unwavering dedication to her craft.
As we look ahead to the future, Margot Robbie's influence on the world at large is undeniable. Her multifaceted talents, combined with her advocacy for equality and the environment, serve as an inspiration to aspiring actors and activists worldwide. Margot Robbie is more than just a rising star; she is a radiant luminary who continues to inspire and empower those who follow in her footsteps.