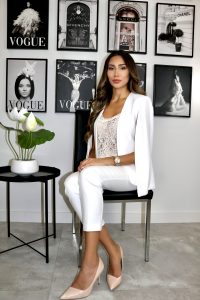 By: Sahar Mourad
Growing up, Cyrelle Balian always knew she wanted a career which helps people be healthy and comfortable with themselves.
åSo when the decision came to choose what to do with her life, the 25-year-old was inspired to compliment her mother's career and studied to become a dietician and a nutritionist.
With five-years' experience under her belt, Cyrelle has treated clients who struggle with weight, crohn's disease, hypercholestrolaemia, heart diseases, bloating, and eating disorders.
At Cyrelle's Health Clinic, it is a place where Cyrelle will continue to push herself to find the latest research information and to motivate her clients become the healthiest version of themselves.
"I've loved everything about health and fitness since I was young and it all started from my mother at home," Cyrelle Anoujoum.
"My mum is all about health, healthy eating and becoming the healthiest version of herself in every way."
Seeing and experiencing the results firsthand, Cyrelle knew that being a dietician would help her achieve her goal.
"Being a dietician is part of educating people and helping them to prevent, treat and manage diseases.
"Growing up, I was aware of the health problems rising at a face pace within society and how people are slowly killing their bodies with excessive medication and junk food.
"So, being a dietician allows me to stop/slow down this trend.
"A dieticians job is not just to help people lose weight or become skinny, it's also about preventing diseases and treat them through food because I believe food is medicine."
One might be overwhelmed thinking that an overhaul of their diet means they can't enjoy what they want.
But that is not the case with Cyrelle who will help construct an eating plan with no restrictions to still allow her client to reach their goal.
"The advice I give is not restrictive – the first thing people tell me is that 'I can't stop eating a specific food such as carbs or chocolate from my diet.
"The way I do a meal plan is that there is no restriction at all. I give a variety of food options and personalise it to the clients likes and dislikes and more importantly their health.
The passionate dietician said one of the good things to come out of her career is helping her family.
"I educate my parents to prevent them from getting diseases at their age. I also help my two youngest siblings in building a healthy relationship with food and teaching them about the importance of food to get all the nutrients they need that will help their body grow in a proper manner..
"For me, being healthy is preventing certain chronic diseases and I do that through proper nutrition and physical activity."
One piece of advice Cyrelle has to those wanting to achieve the healthiest version of themselves is to invest.
"If you want to be the healthiest version of yourself and reach that target you desire, then you must put your mind into it.
"You have to be consistent and determined because achieving a goal doesn't just happen overnight…it's a lifelong journey."
Further to working as a dietitian and nutritionist, Cyrelle is currently completing her Masters in Nutrition and Dietetics at the University of Wollongong.
Cyrelle also works as a beautician to help her clients get glowing skin not only through their diets but also through proper treatments and products.
"Healthy skin is first achieved by what you provide your body.
"If someone wants to achieve healthy skin, that won't happen if they don't adjust their nutrition intake first.
"Beauty starts from within."
Coming from Lebanon, Cyrelle's career was also complimented by her mother's 30-year experience at their clinic, Sylva Beauty Clinic.
"Mum's job is not only to treat people with skin issues. It was also for people who wanted to lose weight, achieve a certain body contour with the latest machines and being a dietician helps with that."
"The most satisfying thing in our job is when we see our clients leave the clinic feeling beautiful, young and healthy."
Cyrelle's extreme dedication to her job will also see her launch an exciting surprise for her loyal followers and clients, but she remains tight-lipped on what that is.
"I'm working on something big that's outside my comfort zone but at the same time it's something which includes my knowledge and expertise in," she mentioned.
"Hopefully by the end of the year it will be launched but it's definitely something related to health and beauty.
"All I'm saying is stay tuned."
Those looking to get in touch with Cyrelle can find her on Instagram @the.skindietitian